Y
ou spent a lot of time learning on Accelerate this year–673 hours to be exact. That's the  equivalent of watching 1,737 episodes of Jeopardy (Wow! That's a lot of Daily Doubles). And we've been thrilled to share your work of improvement, leadership, and wellness with over 70,000 people across the world. Here are three lessons we've learned from over 300 of your stories (and everyone's favorite: a year-end best of list!).
#1: We are wired for story.
Stories capture our imagination in a way that data cannot. Stories foster social connection and establish important cultural norms. Sharing the stories of our work—our unique experiences, insights, and instincts—not only helps others learn, it builds shared purpose.
It's not just any story that captures peoples' attention. Stories that add practical value or builds personal connection resonate most.
Stories that give practical advice
In our world of too much information and not enough attention, practical advice is particularly valuable. Wharton Business School professor Jonah Berger has spent a career studying why some ideas spread and others don't. It turns out that we have a natural impulse to share practically valuable information.
2019 most-read practical advice*

Recognize Your Staff at Ground Level – HR's director of communication and recognition Christian Sherwood shares three ways you can better recognize your team–starting today.

Ask These Four Questions Before Starting Any Improvement– Hospitalist Ryan Murphy and Senior Value Engineer Luca Boi outline four questions to address at the outset of any improvement.

Don't Get Lost in Translation: Expert Advice for Caring for Refugees– Redwood Health Center's Anna Gallegos provides three suggestions to help make caring for refugees and vulnerable populations easier.

Neuroplasticity: How to Use Your Brain's Malleability to Improve Your Well-being– Resiliency Center Director Megan Call shares strategies with activities and examples to improve well-being.
* Most visited articles that impart practical value by quarter 2019 (Source: Google Analytics, Nov. 10, 2018 - Nov. 9, 2019): Totaling 1,993 views with a cumulative time on page of 60 hours.
Stories that foster personal connection
Health care work is tough, and this year you were drawn to those sharing authentic stories of reflection and tenacity.
2019 most-read personal connection*

Three ways to Build a Team Culture That Thrives — Outpatient services manager Jared Wrigley reflects on how he has learned to engage everyone on the team.

Medical Hierarchy Under the Microscope — Pediatric physician Michelle Hofmann critically examines hierarchy in traditional medical education by reflecting on her own journey.

Build Trust By Spending Time — Executive Director Alison Flynn Gaffney draws from popular culture to explore new ways of building trust with her teams.

My Name Is Tom, and This Is My Patient Experience — Surgeon Tom Varghese shares how his recent experience undergoing surgery changed the way he practices medicine.
* Most visited articles that impart personal connection by quarter 2019 (Source: Google Analytics, Nov. 10, 2018 - Nov. 9, 2019): Totaling 1,808 views with a cumulative time on page of 78 hours.
#2: We have fantastic teams.
What makes a great team? Is it one amazing individual—a Superman? Or is it the collective wisdom of the group—a Fantastic Four?
Turns out the right team depends on the problem you're trying to solve. For complex problems that require new, transformative solutions, a team is necessary. In "Superman or the Fantastic Four? Knowledge combination and experience in innovative teams," researchers found that cognitive diversity is the hallmark of innovative and creative work. Cognitive diversity reflects individuals' unique experiences, approaches, and personal social networks.
Health care is fraught with complex challenges. It's a good thing U of U Health has plenty of fantastic teams.
"Top 5" All-time most-read team articles*

#1: How a Surgical Unit Improved Response to Call Lights—A surgical and transplant inpatient nursing team explains how they piloted "purposeful rounding" to prevent patient-initiated calls.

#2: How a Rehab Unit Reduced Overtime Cost— This team achieved effective handoff between nurses: one of the most important processes to reduce safety errors and promote patient-centeredness.

#3: How the Burn Trauma ICU Eliminated Central Line Infections— The Burn Trauma ICU team shares how they tackled CLABSIs, improving quality, safety, patient experience and reducing cost.

#4: How Nurse-Physician Rounding = High-Performing Teams— This Surgical ICU team reimagined physician rounds to feature the patient's nurse, instead of the patient's physician-student, with huge returns.
#5: There's No Place Like Home After Joint Replacement— U of U Health's joint replacement team explains why going home after a joint replacement is better than going to a post-acute care facility.
* All-time most visited articles that detail team-based improvements (Source: Google Analytics, Nov. 10, 2016 - Nov. 9, 2019): Totaling 19,801 views with a cumulative time on page of 1,037 hours.
#3: We are connected.
University of Utah Health's local community has global impact. By sharing the stories of our work online— making it public— we tap into the human potential for spreading great ideas. Since Accelerate began in 2016, 72,850 people from across the world have viewed your articles 239,691 times, spending more than 6,000 hours learning from you!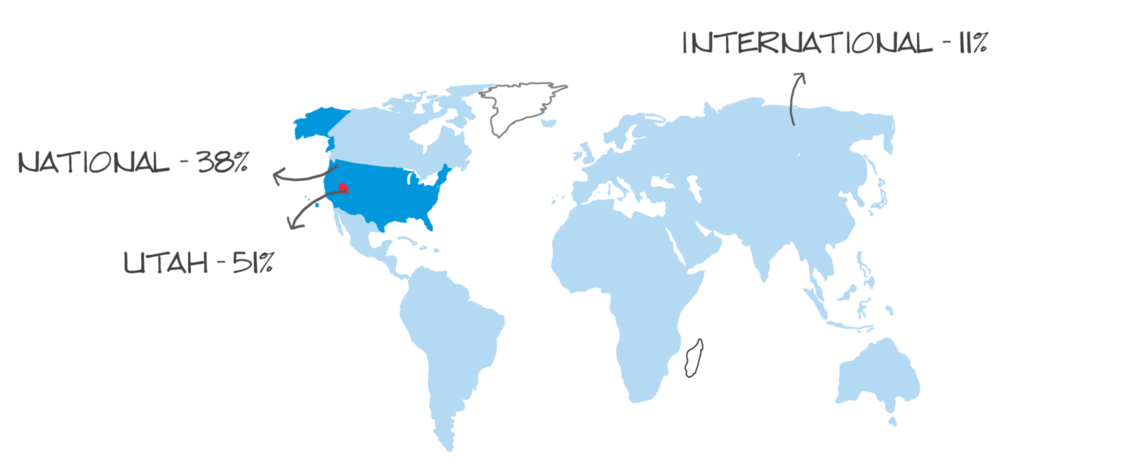 (Source: Google Analytics, Nov. 10, 2016 – Dec. 16, 2019. 72,850 users; 51% local, 38% national, 11% international, generated 239,691 page views. Hours calculated by cumulative time in page in minutes converted to hours.)
Accelerate Editorial Team
The Accelerate Editorial Team is a group of health care professionals who lead development and production of this website (see About), University of Utah Health