Valerie Vaughn
F
resh out of Ann Arbor, Valerie Vaughn joined the University of Utah from the University of Michigan in 2020 as a hospitalist and assistant professor. In addition to her clinical work, she researches improving the safety of hospitalized patients and is the new director of hospital medicine research in the Division of General Internal Medicine. She also wrote a book on mentorship, so we asked her for mentorship tips for new faculty.
#1 Start by curating a mentorship team
One person can't answer all of your questions. You need a team of people to turn to for guidance. Your mentorship team can include a career mentor, a sponsor (someone who can nominate you), and peer mentors (colleagues who can show you the ropes and inside knowledge). You can also seek out coaches to help with skills and connectors to make introductions.
Staff can be invaluable allies in navigating a complex organization. A strong mentorship team is a diverse mentorship team. By taking the time to build relationships across units and disciplines, you'll have a wealth of support as you grow your career.
#2 Meet lots of people—be curious about everyone around you
This advice was given to me by Brad Sharpe, Chief of Hospital Medicine at University of California San Francisco. Look at everyone in your division and department, then set out to meet people with shared interests. It's also wise to seek out people doing similar work in other areas.
If you can't introduce yourself in person, start with an email: 
Introduce yourself and say, "I am reaching out to you because ____, I was hoping we could meet for 30 minutes so I could hear more about you and your career and talk about what I want to do here. Please let me know the best way to arrange a 30-minute meeting with you." 
If no response, wait a week and then "Just following up on the email below to set up a time to meet." 
Below are some questions to ask when you do get together: 
Tell me about your career. 
Look at roles you're interested in and ask: How did you get there? What do you do?
What advice would you give me just starting out at the university, how can I be successful? 
Is there anyone else I should meet? 
Don't forget to send a thank you follow up email with any follow up items needed.  
#3 Communicate and set clear expectations
Early career mistakes are often caused by a failure to communicate, conflict avoidance, and lacking confidence. Follow these steps to avoid mishaps: 
Communicate early and often. When there's a power differential or you feel uncomfortable, use curiosity and questions to avoid the angst of direct conflict (e.g., "Can you help me understand why you're suggesting that?") 
Set expectations early. Who's doing what. Who's getting what. (e.g., authorship position, funded effort) 
Ryan Murphy
O
riginally from California, Ryan Murphy trained at the University of Colorado in Denver and joined the University of Utah as a hospitalist in 2015. We caught up with him at an inflection point—after four years directing a longitudinal series of elective courses for medical students, he's transitioning to lead quality improvement in his own division and support residency and fellowship programs in teaching quality improvement and patient safety. So we asked him, given everything you've seen and done, what is the most important advice you would give new faculty members today?
#1 Start by thinking long-term: develop your professional identity now
I would tell them to really spend time contemplating their larger goal or purpose. Ask yourself, what do I hope to achieve? What do I find gratifying? Some are blessed with a clear sense of purpose and direction. If you are not so lucky, start thinking that through. If you have the opportunity, work with a coach (see Valerie's tips above for how to find a mentorship team or coach). 
Say yes early on to opportunities that seem intriguing. You'll learn by doing and find out what does or does not fit. Similarly, when a role or activity no longer aligns with your professional identity, learn how to (graciously and responsibly) move on and give this opportunity to someone else.
Angela Duckworth talks about the goal hierarchy. Your ultimate long-term (superordinate) goal will inform your lower-order goals. If you do not have an idea of what you want to ultimately achieve, it will be hard to identify and suppress "rival goals" that will only distract you.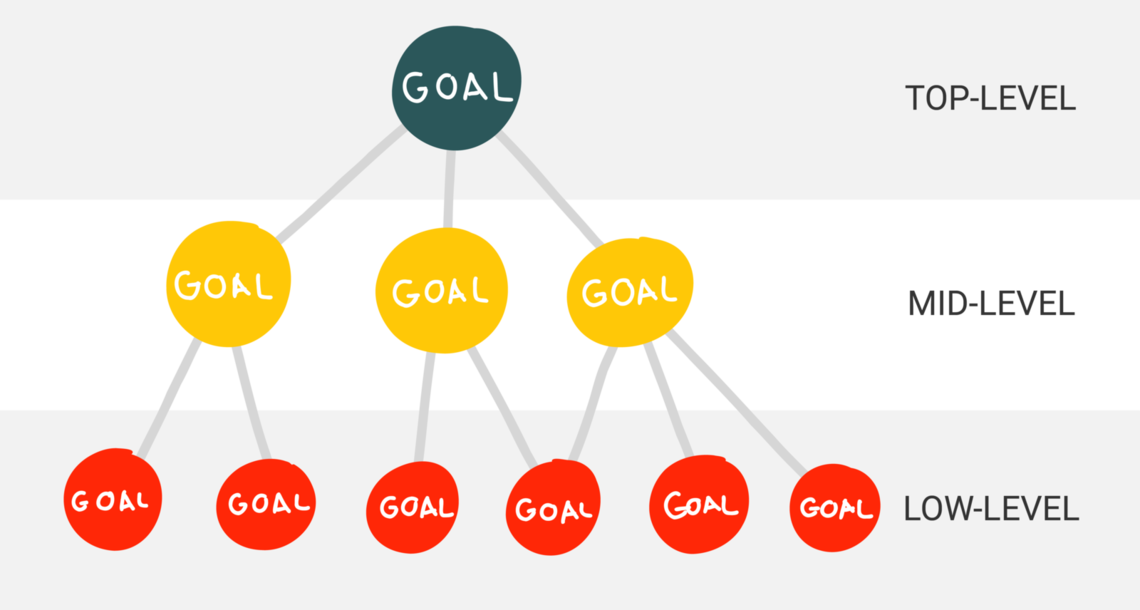 Adapted from Angela Duckworth, "Grit: The Power of Passion and Perseverance"
Don't leave your professional growth to "sometime down the road." Start thinking about it now.
#2 On the more practical side: Get on the list for a parking spot, immediately
Parking is a limited commodity, and in the long run, parking is slowly vanishing. If you don't mind circling multiple lots for 30 minutes to find a spot or adding a 20 minute walk to your office in the sun/rain/snow, then disregard this. For everyone else, get on the wait list for multiple reserved lots. It will take a few years for a spot to become available, and you can always decline if you change your mind. Ask your colleagues what parking permit to purchase and which lots make the most sense for you.
#3 Get the white coat with knots, not buttons
Seriously. Buttons fall off.
#4 Take care of yourself financially
Medical school didn't teach me how to manage my personal finances and employment benefits. I've found The White Coat Investor (written by U of U alum James Dahle) and If You Can: How Millenials Can Get Rich Slowly (very quick read) really helpful.
#5 Take the time to Learn a few productivity tips
Unless you have your own administrative assistant managing everything for you, learn a few important skills—how to use Outlook, keep your calendar up-to-date, create and manage a Zoom or Teams meeting, find and book an open meeting room. My department's administrative assistant, Selma Lopez, helped teach me a lot and is still a vital resource. Learning some skills up front will save you a lot of back-and-forth emails, delays, and reliance on others.
Ellen Morrow
H
ailing from Seattle, Ellen Morrow joined the faculty at University of Utah first as a student and then as faculty in October 2014. As co-director of the Resiliency Center—it's her job to know how to bounce back—we asked her for tips on adjusting as a new faculty member.
#1 Take care of yourself
I trained at organizations that had well-established wellness and resiliency programs for residents, so when I joined U of U Health I felt somewhat equipped to help develop a program for our residents. Utah has a host of wellness offerings I would encourage anyone to explore.
For me, simple things that I do every day help me feel resilient. I make it a priority spend quality time with my daughter every day, I try to exercise regularly and eat healthy. A ritual of home-brewed coffee and packing a lunch have been an easy way to do that.
#2 Rely on your team
My colleagues provided so much help. Our department director, David Ray, oriented me to my clinical duties and expectations. The department administrator, Andrea Marsing, was a life saver. Eric Volckmann was a tremendous peer support. He helped me customize my schedule to better transition between hospital and the VA.
Learning how to work with a team, instead of doing everything myself, has been the hardest thing. And it is something I'm still working on. For me it means learning how to delegate administrative tasks and what I can ask the MA to do.
This article has been updated from its original publishing in September 2017. 
Valerie Vaughn
Hospitalist and Director of Hospital Medicine Research, Department of Internal Medicine, University of Utah Health
Ryan Murphy
Hospitalist and Associate Editor, Accelerate, University of Utah Health
Ellen Morrow
Associate Professor, Surgery and Medical Director, Resiliency Center, University of Utah Health