For those who could not attend in person, we provided daily photos, videos and highlights from event proceedings.
DAY 5: Friday, May 24 | A Message from Dr. Good
The following is an excerpt from Dr. Good's remarks on Wednesday, May 22.
T
hank you to all of the improvers who participated in Value Week. You are one of the reasons I came to Utah.
From that peninsula way down on the other side of the country, one of the things that drew me—and really draws national attention to the University of Utah—is the work in quality and safety, patient care and process improvement.
We have an amazing culture that gets up every day, and says, "we can find a better way to do this." Whether it's a better patient outcome or a smoother process, our culture enables this great work. It is this sense of community focused on improvement that creates an energy that I believe is second to none. I'm very proud of the work done here at University of Utah Health.
Michael Good, MD—Senior Vice President, University of Utah Health
DAY 4: Thursday, May 23 | Patient Reported Outcomes (PROs) Conference
Thank you to everyone who attended the PROs conference.
Video of this conference is available to University of Utah employees only.
Please click here to access them on Pulse.
DAY 3: Wednesday, May 22 | EBP "Best of the Posters" Presentations
PRESENTER: SUE ROGERS, RN | TEAM: ROGERS, S., CHAN, B., HINKLEY, S., HENDERSON, C., GARDNER, MD., STREVAY, D., BASERGA, M., JONES, C., YODER, S., PRATT, C., SHAFTER, K., WARNER, V., TIBBETS, V.
Description: Diaper dermatitis is a serious and common issue in the NBICU. The premature infant has increased caloric needs and therefore requires feedings that consist of high-density ingredients. Premature infants also have an underdeveloped stratum corneum (outer layer of skin). Loose stools coupled with the underdeveloped stratum corneum greatly increases the infant's risk of developing diaper dermatitis. The NBICU addressed this problem by creating a standardized protocol for diaper area skin care.
PRESENTER: NATHAN ROLL, NRP | TEAM: JOHNSON, E., SANFORD, M., YOUNGQUIST, S., ROLL, N., WOODRUFF, W., BAILEY, M., TROYER, J., ELIASON, J., GAUCI, EMMA.
Description: We created a cardiac arrest committee to help improve performance and outcomes with patients in cardiac arrest in the emergency department. Our goals were to improve team dynamics, performance and compression fraction. We organized roles in our meetings, and are teaching this plan and are measuring outcomes.
PRESENTER: WHITNEY WOODRUFF, DNP-FNP, BSN, RN | TEAM: WOODRUFF, WS., JOHNSON, E., ROLL, N., BAILEY, M., SANFORD, S., YOUNGQUIST, S.
Description: Early sepsis identification and treatment is important in the patient's outcome. EMS teams were questioned regarding knowledge of sepsis identification and early treatment. Pre-education and post-education surveys were taken. EMS crews stated they had an improved knowledge of sepsis identification and treatment and were also able to provide early treatment of sepsis patients.
DAY 2: Tuesday, May 21 | Evidence Based Practice Poster Fair Reception
Infectious diseases physician Emily Spivak learns about Clinic 1A infectious diseases nurse manager Bruce Garrett's improvement work.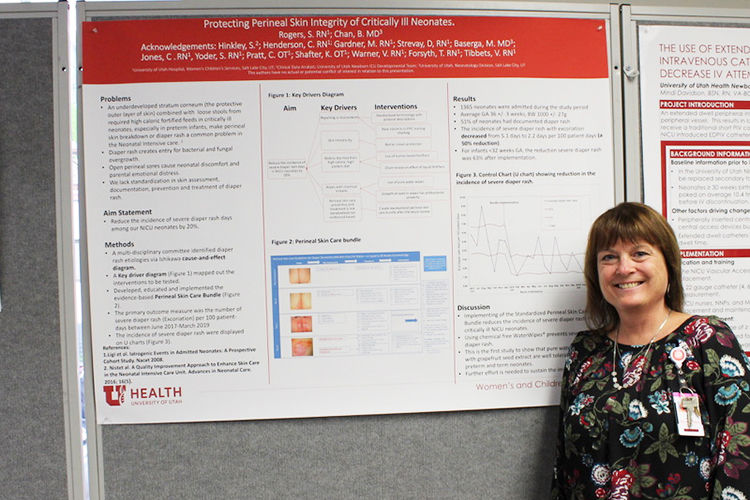 Nurse Sue Rogers shares her award-winning work to reduce diaper dermatitis on the newborn intensive care unit. The "Best of the Posters" Presentations were held Wednesday, May 22, from 1:00 - 3:00 p.m. in the Red Rock Room.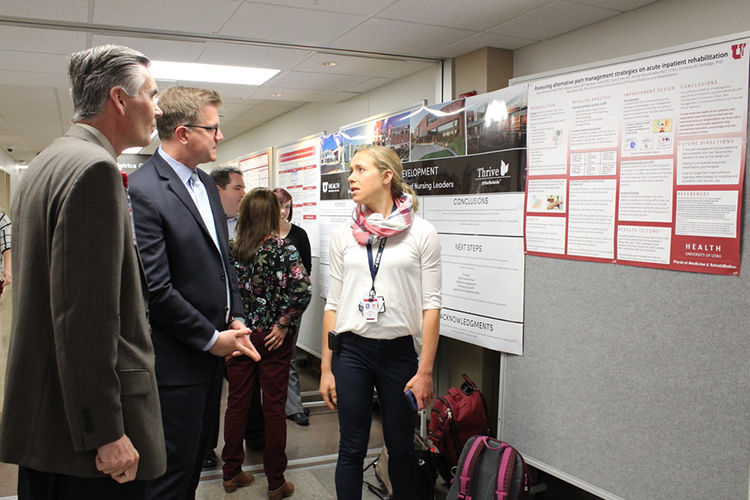 SVP Michael Good and CMQO Bob Pendleton learn about improving pain management strategies on the inpatient rehab unit.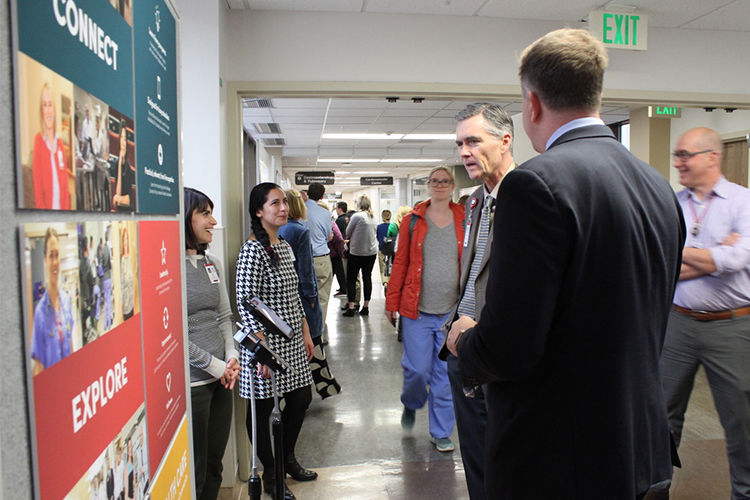 Visiting the Accelerate team.
Nearly 50 individuals stopped by Accelerate to weigh-in:
How to improve access to care for my patients
How to get sponsorship for my work
How to find resources to support my work
Problem solving
Health care trends
What do you think? Take the survey now.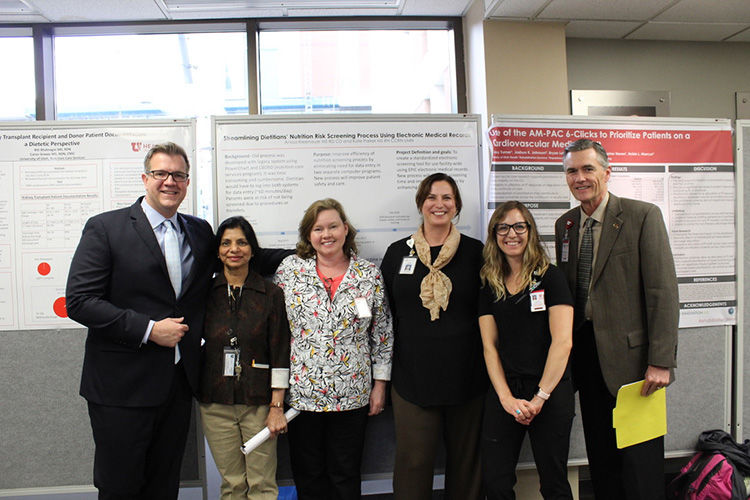 Drs. Pendleton and Good with the team who streamlined dietitians' nutrition risk screening.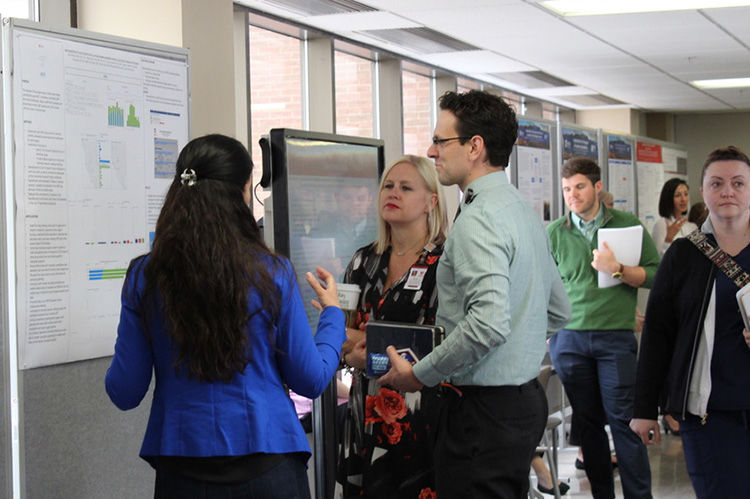 Quality improvement coordinator Sijana Omerovic and manager Hillery Byrd describe their work to improve transplant to value engineer Mitch Cannon.
Leadership learning about the College of Nursing, Juvenile Justice, and State Health Department collaboration to treat sexually transmitted infections.
A crowd gathers to learn about "Brain Attack" response at the VAMC.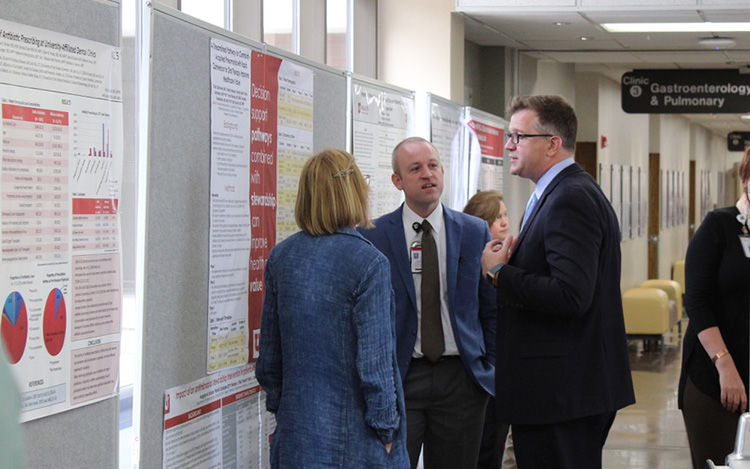 DAY 1: Monday, May 20 | Value Week Begins
Team, Process, Purpose: "Best of the Posters" Winners Announced
Bob Pendleton announced the winners of this year's Evidence-Based Practice "Best of the Posters" competition. Of the over 60 projects submitted for this event, these three improvement projects exhibited exceptional strength of team, process, and purpose. Read all about it here.
Calendar of Events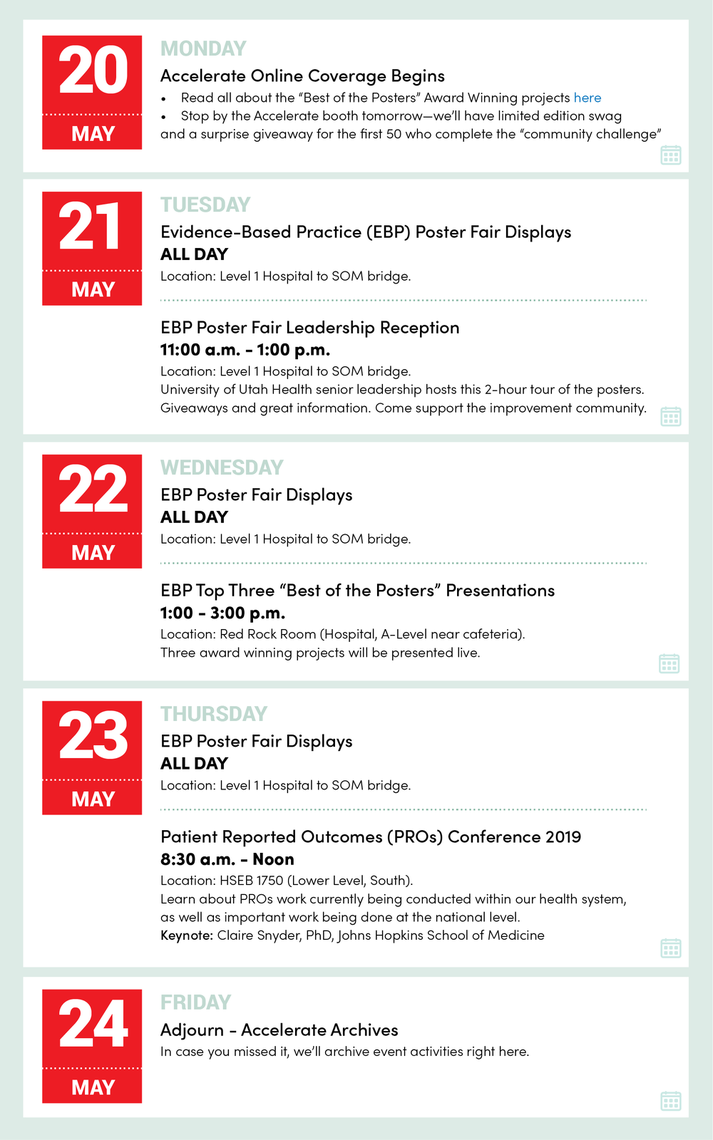 Accelerate Editorial Team
Health care professionals who lead development and production of this learning community (see About), University of Utah Health