A "bundle" places all of the care for a certain procedure, or series of procedures, into a single bucket. A bundle. The rationale for contracting for a bundle is threefold:
Patients benefit from having a team of providers focused on improving care processes, which often result in reduced procedures, supplies, and transition time.
Payers benefit from having a predetermined price they will pay for care, meaning they know the exact amount they will pay for an episode of care.
Care providers benefit from knowing the predictable amount they will get paid for patient care, even if the costs associated with that care are less than the agreed-upon bundle amount.
When talking about bundles with both internal and external colleagues some of the first questions are "what bundles do we participate in?" and "how can we establish, or build, a bundle?"
This post will address "what bundles do we participate in?"
Voluntary vs. Mandatory Bundles
T
he Centers for Medicare & Medicaid Services (CMS) is the primary payer when it comes to bundlesCommercial bundles are also growing in popularity, though there is high variation in how those are defined and implemented.. The CMS Innovation Center (CMMI) created several programs that focus on bundled care. The bundles fall into two categories: voluntary and mandatory bundles.
Examples of CMS Bundle Programs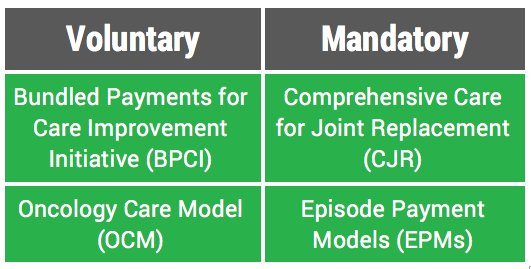 Voluntary Bundles
CMS created the voluntary Bundled Payments for Care Improvement Initiative (BPCI) and the Oncology Care Model (OCM) programs to engage care providers in reducing the costs of care for Medicare beneficiaries. BPCI is a bundles "catch-all" with 48 different episodes of care under its umbrella. These range from surgical episodes (e.g., Major Joint Replacement of the (1) Lower or (2) Upper Extremities, separately) to medical episodes (e.g., Nutritional and Metabolic Disorders). It also includes four different "models"There are four timeframes. Each varies in how the awardee, or care-providing entity, receives payment for the costs of patient care. wherein groups ranging from post-acute care practices to integrated delivery systems are responsible for the cost of care for upwards of 90 days. Currently there are 1,343 participants in this model.
The Oncology Care Model focuses on "provid[ing] higher quality, more highly coordinated oncology care at the same or lower cost to Medicare." The episode of care for these patients spans six-months and there are currently 195 practices engaged in this model.

Mandatory Bundles
Mandatory bundles are created when Medicare analyzes the volume of their annual spending for the high-cost episodes of care (taking regional variation into account). Two examples of mandatory bundles CMS has created are the Comprehensive Care for Joint Replacement (CJR) and the Episode Payment Models (EPMs) bundles.
CJR was created in 2015. It focuses on bundling care episodes for hip and knee replacements, two of Medicare's costliest and most common procedures . CMS implemented this bundle to ensure that care providers across the country were taking the overall cost of patient care into consideration. CMS holds participating hospitals financially accountable for the quality and cost of a CJR episode. Furthermore, CMS provides incentives for coordinating care across hospitals, physicians, and post-acute providers. Currently CJR is implemented in 67 Metropolitan Statistical Areas (MSAs).
Episode Payment Models (EPMs) included a revision to the CJR rule (it now includes hip fractures) and introduced two new episodes to CMS's mandatory bundle scope: Acute Myocardial Infarction (AMI, or heart attack) and Coronary Artery Bypass Graft (CABG). These two episodes are part of the BPCI program already. But they are about to be mandatory in 98 MSAs as of July 1, 2017.
Zac Watne
Senior Manager, Payment Strategy and Innovation, Payer Relations and Contracting, University of Utah Health