We
often focus on personal resilience, and for good reason. It's the area where we, as individuals, have the most control. It's why the Resiliency Center focuses on equipping all employees, staff or faculty, with tools to help them build their wellbeing.
Yet, experts note that about 80% of resilience is related to system issues. Those issues include cultural ones (like shared values, connection to meaning in work, and psychological safety) as well as operational ones (like the work we ask our teams to do, and the efficiency of our practices).  
Practice efficiency is a hot topic. The seemingly ever-increasing amount of clerical work can feel crushing to teams. Many think that there is no way that the system can change.  But many of us have the power to change the system from within. How? What should we aim for? There are a number of approaches that can make work more manageable. Here are two ideas to consider.
1. Measure work and distribute appropriately 
Christine Sinsky, the American Medical Association's vice president for professional satisfaction, is an expert in team-based care and practice efficiency. She is one of the authors of the original article suggesting medicine move to the quadruple aim of health care (as a reminder, that's team wellbeing, exceptional patient experience, value-based care, and healthier populations). Her landmark 2016 study showed that physicians spend two hours of EMR work for every one hour of face-to-face time with patients. The AMA has a calculator that measures the financial impact of physicians doing clerical work.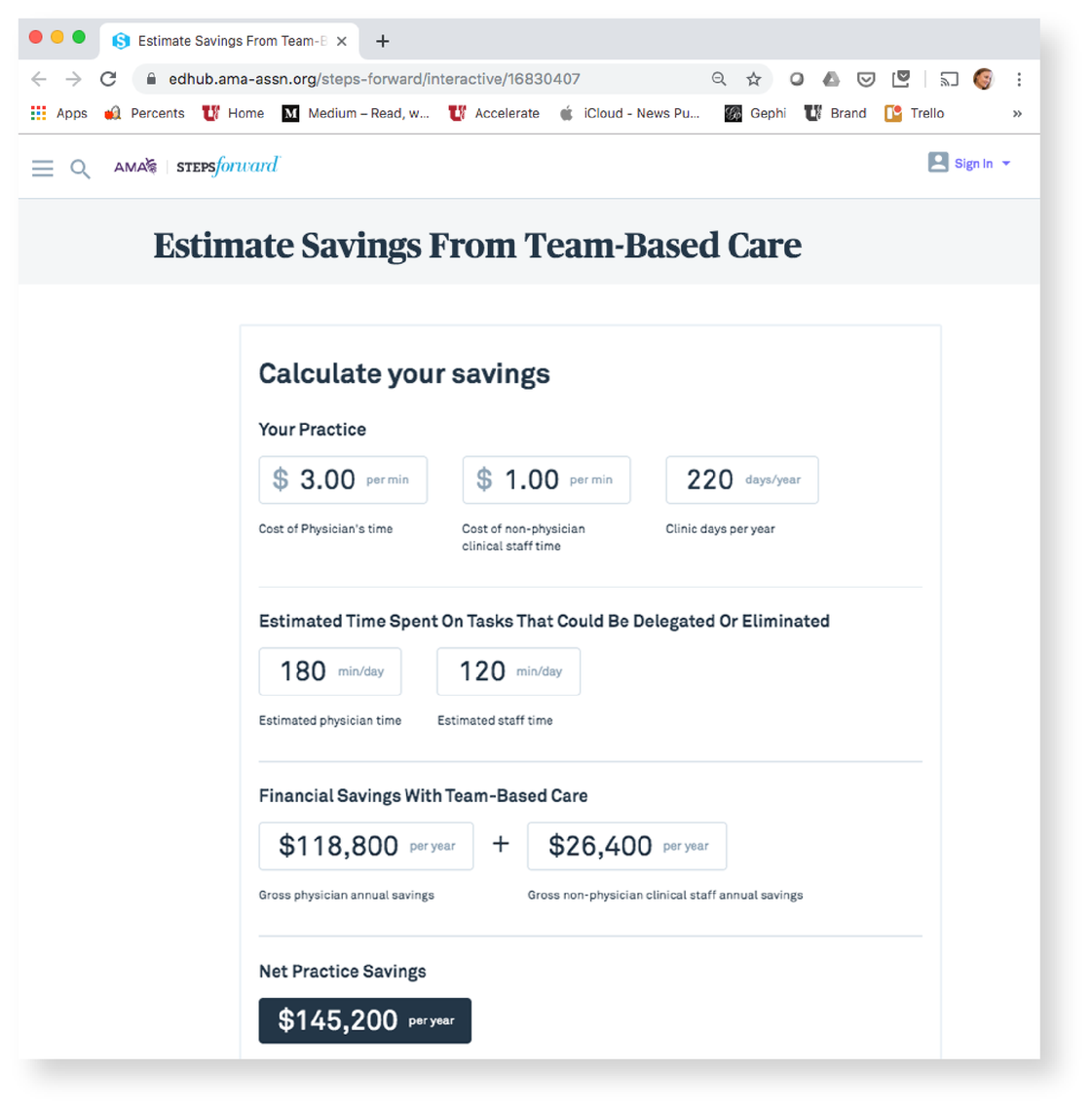 Screen capture of AMA Team-Based Care estimator.
Many studies show that team-based care, including team-based charting, can help each member of the team work at the top of their license, reduce costs and improve patient satisfaction. The first step is measuring the true work associated with patient care, including the volume of work of the in-basket/portal and after-hours charting. Techniques like Dragon dictation, team-based charting, scribes (virtual and in-person) can be used to decrease workloads. Streamlined workflows, such as addressing messages on the first touch (the first person who opens the message resolves it), can dramatically decrease workload without an increase in staff. 
2. Support flexible scheduling
A second area of intervention to consider is the role of the system in providing some control over workload/work type and work-life integration. By providing an opportunity to be flexible in the timing of work, we can support individuals with other commitments. This was immensely helpful to me as a young mother and physician. I was able to decrease my FTE and work with my medical director to allocate my time in such a way that I could spend more time with my children outside of school hours. This won't work for everyone—or even be everyone's desire—but it can be a significant opportunity for some. Flexible hours are also patient-focused. They allow an increased access to patients by incorporating non-traditional hours.  
In addition to work flexibility, considering hours worked per week and the ability to take vacation are essential. Studies suggest that when physicians work over 60 hours a week, burnout goes up. We can staff our clinics and services to allow for a work week of 60 hours or less. Workflows to cover colleagues while they take much needed time away is also essential. 
Flexible hours are also patient-focused. They allow an increased access to patients by incorporating non-traditional hours.
I have spent several short stints as medical director of two different clinics. During the last, I made it a priority to accurately measure the panel size of each provider. By opening up long closed smaller practices to new patients and closing those that were over-subscribed we aimed to decrease after hours work while providing access to patients. By having open communication with providers, physicians and APC's were able to share concerns, feel like their voices were heard, and that someone was looking out for their interests. 
The Wellness Champions Program
There are many ways we can support one another. One way to work out some of these ideas is through our Wellness Champions program. Our Wellness Champions program is a great way for interested faculty and staff to learn about ways to make change in their groups and the system at large to improve professional wellbeing. 
In the end, attention to professional fulfillment allows us as a group to succeed in our missions such as providing excellent comprehensive patient care, being national leaders in education and research and serving our community.
 
Originally published October 14, 2019
Amy Locke
Family Physician, Chief Wellness Officer and Executive Director, Resiliency Center, University of Utah Health