W
hen I talk about my passion for patient care and keeping my patients safe, it's sometimes hard for me to hold back tears. It's personal. These tears come from working shoulder to shoulder with my staff. It's from walking into the patient's room and assuring them that they are safe. It's knowing that our team will provide them with the care, love and respect that they deserve. But these tears also come from hard and challenging experiences. My journey has involved recurring struggles and internal conflicts. Although the passion seemed to come naturally, finding my voice took time. The struggle was real and the work is ongoing.
Complete Presentation Video and Annotated Trasnscript Below
Let me talk about my passion
I love to laugh. I grew up watching M.A.S.H and the humor and the passion you saw in Hawkeye, Radar, Hot Lips Houlihan, Klinger and all the rest had for their patients. I felt the adrenaline rush when a chopper landed, and I understood that a family and team developed as they took care of the patients. This team motivated me to work in healthcare. When I look back, the show inspired me to choose nursing, and it helped me understand how to lead with passion. I understood that the unit is my family and that the humor is a necessary component in the care of patients who are critically ill with cancer.
I graduated from nursing school in 1985—I had hair
Upon graduating, still watching reruns of M.A.S.H., I knew I wanted to work in critical care. A few years into my nursing career I landed a job in an ICU that was like working a M.A.S.H. unit. I worked in a surgical trauma ICU during the peak of the AIDS epidemic. On a daily basis, I cared for patients whose lives were taken during the prime of their life. This was not easy work. I soon recognized the need for humor and family to survive. I developed a close bond with several of my staff and we laughed together, cried together, and supported each other. We became a family.
Caring for John Doe
As many of you know here, the first few years of nursing require focus on technical skills to survive each day. The empathy is there, but often pushed to the side as technical skills are developed. But for each of us there is a moment or patient who triggers our passion for patient care.
For me that moment came when I was caring for John Doe.
John Doe was a homeless man without family. He was HIV positive, he had been viciously assaulted and had a poor prognosis. The consensus was that John would not survive his injuries especially with his AIDS diagnosis and his compromised immune system. However, the ICU team wanted to keep pushing and even wanted to put him on a clinical trial. John did not have family or friends or anyone to advocate for his wishes and it did not seem dignified or safe to aggressively escalate his care. As his nurse, I was his only advocate. I became his family. And after many passionate discussions, it was decided to place John on comfort care.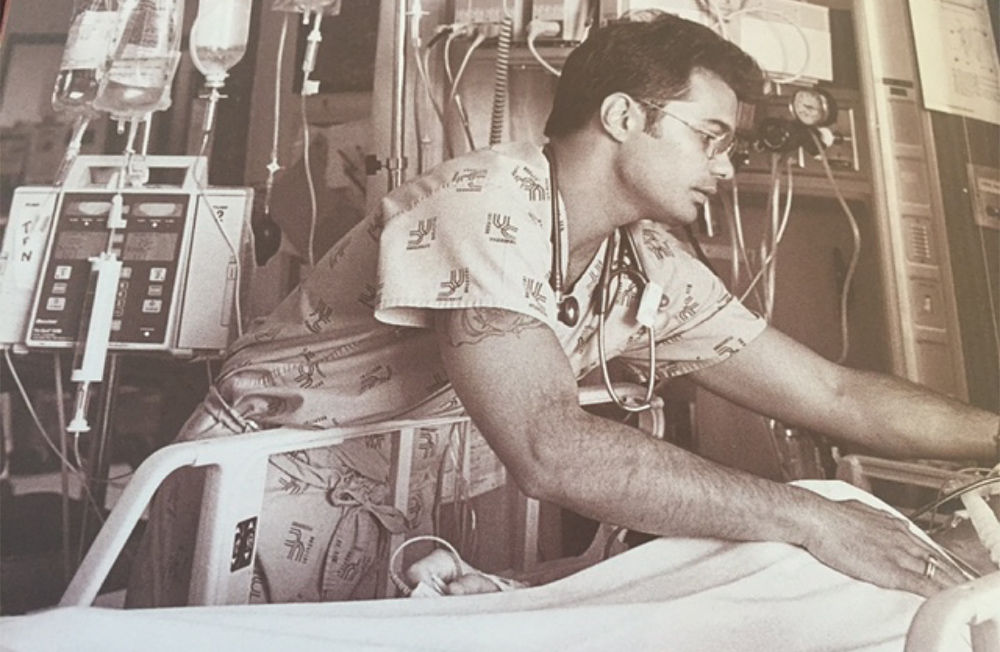 When we began to withdraw support, it was I that held his hand when he died. I realized behind the grief, it is an honor and privilege to be a part of a patient's end of life. I learned the importance of advocating for your patients, to ensure your patients have a dignified death. I became more introspective in my practice.
"I believe that every patient should be cared for with the dignity, compassion and respect that I would expect for my husband, my children or my parents."
I developed beliefs about patient care. I believe that every patient should be cared for with dignity, compassion and respect that I would expect for my husband, my children or my parents. I believe that every patient deserves safe enough care that a patient's spouse or child of a patient can go home and rest. I believe that every patient deserves to know what is going on. I take the time necessary to help eliminate their fear and anxieties by answering their questions and ensuring they know their plan.
While there are a lot of technical nurses, and yes, you want them as your nurse, I also vowed to be one that is compassionate. I vowed to be a nurse who will take 5 minutes each day to sit with the patient and their family and listen and understand their journey to make a personal connection.
Finding my voice: Speaking up for my team
After a dozen years at the bedside, my passion needed to find a voice. As a bedside nurse, I became an excellent and competent caregiver, but I noticed issues that could potentially harm patients. I learned that staff were afraid to speak up. I believed I could make a difference. But when I brought issues to leaders, I quickly learned that there were several canned responses that I would hear. I would hear "That's the way we've always done it," "Don't worry about it, I'm sure it won't happen again," or even, "What did you do wrong? Why did that happen?"
I learned quickly why staff were afraid to speak up. Serendipitously, I began accepting leadership positions. I hoped to elevate the voice of nursing and be more influential in providing safe, compassionate and quality care. My journey took me across the country to some of the best institutions in this country, working as a patient safety officer, a director of nursing practice and a quality regulatory affairs manager.
However, despite my knowledge and experience, bringing greater attention to safety issues did not always resonate well, and so the challenges began. The canned responses were more frequent, and some of the experiences were at times humiliating and degrading. For example, at another organization, I discussed an issue at a leadership meeting that I knew made the organization vulnerable. I was scolded in front of my peers for bringing it up in the meeting. I've also been told that, "maybe you're not a good fit," because I raise systematic issues that put patients at risk. And finally, when bringing up errors, I've had supervisors that say, "Did you punish the nurse?" As opposed to just asking the questions, "why do you think this happened? And what do you think could do to have prevented this?"
The experiences were not isolated to just one organization. I felt my passion and voice for nursing being thwarted. Even though there was joy in my daily work and my leadership roles, I had the battle scars of advocating for my staff and improved patient care. Each day became a walk through a minefield. What was safe to say? Who could I trust? And who truly wanted to work with me and walk on my journey?
Wanting to keep the patients and staff safe was like Sisyphus. And I could no longer push the boulder up the hill. I finally decided it was time to go back to the bedside. At the same time I made the decision to go back to the bedside, my husband and I were in our third year of caring for my mother. We decided to put family first, and so we moved here to Salt Lake City. I interviewed for a CVICU nursing position, but as fate would have it, I interviewed with Colleen and Julia, and after the interview they said (and I'm paraphrasing), "Okay, now that we've interviewed you for the CVICU position…we're looking at your resume with all of your clinical leadership experience, and let's talk about a leadership position in our organization." Oy.
Although I wanted to go back to the bedside, they were pretty persuasive. Within 30 minutes I walked up to Huntsman and had an impromptu interview with Sue Childress. Within 24 hours, I had several interviews that included Estelle Harris and the staff of the Huntsman Intensive Care Unit. I realized I wanted to share my experience with an organization that wanted an innovative leader and embraced a culture of safety.
But to be honest, I was scared. I knew that the nurse manager position is probably the hardest job in the hospital. The manager is sandwiched above by your director, the c-suite, and their expectations, and below, by the expectations of staff, patients and their families. The manager is responsible for setting the tone for a broad range of issues for clinical and patient care. The nurse manager is responsible for ensuring exceptional patient care while keeping our patients and staff safe. It's a balancing act, and when you know all this, who would really want to do this job? But, I wanted to develop a unit that would be exemplary in the organization – a unit that could provide exceptional and safe patient care, where a team could thrive, be successful and happy. I shared my experience and vision during my interviews. Everyone I spoke with was sincere. They were engaged and supportive. So, I took a leap of faith and accepted their offer.

Leading Huntsman Cancer Intensive Care Unit
3 years later, I've incorporated my journey, passion and experience into developing one of the most successful (in my opinion) teams at the University—the Huntsman Intensive Care Unit. I must acknowledge how fortunate I have been that Huntsman, the University of Utah, and the Critical Care Service Line allowed me to share and support my passion and vision for patient care and team development.
I've included three key components to build successful teams:
shared governance
transparency
shared leadership
These are tools I've used to create safety. If you use these tools, I believe that safety will fall into place. To the credit of the Huntsman organization, the structure was already established and the HICU had a clinical practice council. However, the challenge is understanding the appropriate role of the manager. In shared governance, the manager's role shifts from managing to leading the team.
Shared governance means having confidence that the staff are experts in the daily operation of the unit. It means providing them with responsibility and ownership of the unit. This is not easy. It's hard work and requires coaching and trust, but it's the right thing to do. I've empowered my clinical practice council and the rewards have been amazing. I've learned that the benefit of becoming a Magnet hospital is the journey, not the trophy of becoming a Magnet organization.
Transparency is important to me. It means working shoulder to shoulder with my staff, putting on my scrubs and doing the work—or actually—their work. Transparency does not mean invisible, on the contrary it means being very visible. It's the invisible leaders that tend to be ineffective.
When someone makes an error, a transparent leader goes down two paths asking two questions: "why do you think this happened?" And, "what do you think we could do to prevent it from happening again?" It does not mean going down the blame path. Instead, ask them what you can do to make them successful. And if they filled out an RL, thank them for that. It takes character and courage.
Being transparent means sharing the good, the bad, and the ugly with your staff. I have a blog that I share each week. When I started, I promised the staff that I wanted them to be at the bedside as much as possible, and not to check email. So I send out one email each week with a link to my blog. It celebrates their successes. I share information that is necessary. I share the hard truths so we can learn from our mistakes. I share the fun stuff that we do outside of our work.
My journey has not been easy. My team has become my second family and together we endure challenges, the successes, and the grief that comes with nursing in an oncology intensive care unit. We provide safe care with smiles, deep compassion, and the knowledge that our team has each other's backs for the benefit of our patients and their families.
This team is what brings me strength, hope, humility, and what brings me to work each day. There will always be challenges. But it is the beauty of a team and an organization united in a common purpose that keeps me motivated. It keeps me humble and willing to take another step day after day. Thank you for listening to my story and being part of my journey.
Lawrence Marsco
Director of Inpatient Nursing, Huntsman Cancer Hospital, University of Utah Health