L
ike many health systems, we used to measure patient satisfaction and respond to complaints. We identified problems, and rushed to patch them. Our benchmarked performance was middling and the patients were losing patience. Their feedback in the form of letters, calls and surveys was inconsistent. We hit the mark some of the time, but with distressing regularity, they told us the medicine we provided was not great. Inconsistent excellence was not enough—not for patients, and not for us. We wanted to provide truly great medicine, and we wanted the patient to think it was great, too.
And it worked...
University of Utah Health began with an audacious goal—to provide every patient with an exceptional experience. We collected feedback from patients, benchmarking against national peers to identify our opportunities, and coordinated our effort through teamwork. We improved.
University of Utah Inpatient Trends
University of Utah Clinic Trends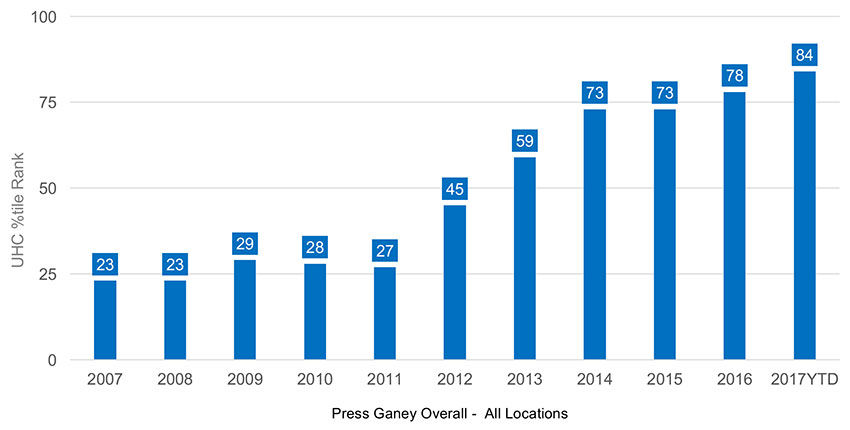 1. Trust the patient's voice
Improvement thrives in an environment of real-time feedback. Each week, over 3,000 comments are distributed across the organization. This continuous infusion of the voice of the patient allows improvers to truly understand what they do that disappoints and delights their patients. We combine that detailed feedback with quantitative data from over 90,000 surveys received each year. The goal is to bring the voice of the patient to every process.
We supplement comments with the Patient Design Studio and Patient Family Advisory Boards. The Patient Design Studio is a group of patients who actively support our improvements by bringing the voice of patients to the design process. Improvers bring their problems, research and potential solutions to the design studio where patients and family members provide pragmatic and candid input prior to implementation, thus saving cycles of less effective improvement. Patient Family Advisory Boards meet across the organization providing guidance and input into daily operations and strategic plans.
2. Trust the local leadershp
Patient experience is led at the local, entity and system levels by physician and administrative partners. Patient experience is personal and local. Our patients want care to be more coordinated, seamless and responsive—and integrated teams are the solution. These teams have generated a continuous stream of local innovation to meet the special needs of every patient group.
Patient experience requires the integration of efforts across local areas. Service lines (e.g., Cardiovascular Medicine, Women's and Children's, Transplant) further integrate the efforts across departments and across the continuum of care, reducing misalignment and disincentives that can weaken coordination.
As the system has expanded, there has been significant investment in care delivery systems (Huntsman Cancer Institute, University Orthopaedic Center, John A. Moran Eye Center at the University of Utah, University Neuropsychiatric Institute, University of Utah Community Health Centers) organized around specific patients. These facilities and specialized staff allow further focus and innovation in meeting the needs of specific patient groups by bringing all the services needed by patients to a centralized location.
3. Trust the team
Those who take care of patients are the experts and we use that expertise to design our improvements. Employees that thrive at University of Utah are those who find intrinsic reward in meeting the needs of patients. Sometimes they come with that motivation and often they develop it after working here. Identifying, hiring and retaining the right team is crucial to our organization's success.
The organization measures employee performance using system-wide standards of behavior. These behavior standards are combined with individual goals that are tied to the institution's strategy, allowing every employee to have a clear line between their individual performance, their contribution to the team and the organization's success. We want every employee to have a clear vision of what success looks like, to understand their role and the impact they make within the organization. We believe every employee has a voice to contribute their ideas to make the organization successful.
4. Measure performance
What is measured improves. Patient experience is grounded is expansive measurement. Since 2009, we have received nearly 500,000 surveys answering over 15 million questions. We are deeply committed to assuring the quality of data so that teams can rely on its accuracy.
Every unit has a SMART (Specific Measureable, Attainable, Relevant, Time-bound) goal based on past performance. Performance is measured quarterly, giving each unit up to four cycles every year to meet and exceed their goal. The system uses the same process to set every unit's goals, but measures of success and targets are local.
Performance is reported transparently and frequently across the organization. Each week, patient experience is reported by location across the system. Data is displayed to promote understanding of current performance (at/above, near or below target), engaging accountability (includes names of leadership dyads) and understanding of trends (prior month, quarter and year performance).
5. Continuously improve
Patient experience is the hardest part of a manager's job. It is never done. Our goal is steady, continual improvement. We don't script or send people to training. We believe the improvement comes from tackling problems as a team, and its hard work.
We use improvement science to get better, and we continuously examine our processes to improve. We improve using a standardized methodology based on lean, six-sigma principles:
Problem Definition – defining the goals, scope and team
Baseline Analysis – defining the current state quantitatively and qualitatively
Investigation – looking for root causes, observing the process, listening to the customer
Improvement Design and Implementation – select interventions, test them, and develop a plan to implement
Monitoring – track adherence to and performance of the new process
Our teams our constantly improving. Here are a few of their stories.
6. Recognizing success
Recognition is essential. What is recognized is repeated. Many people leading change speak of accountability—usually in terms of having tough conversations with those who underperform (we do that too). But patient experience is built on repeating your best work more often. Celebrating the success of individuals and teams has been key.
We know this work is personal, and it deserves frequent meaningful thanks. We don't rely on leaders to remember or find time for this conversation. It is equally part of the process. We formally recognize teams for their achievement every quarter. We recognize providers annually and invest in system wide resources, which are available for every leader to provide individual recognition.
Chrissy Daniels
Former Director of Strategic Initiatives, University of Utah Health