The Things I (wished) I Had Done
By Martha Schnee
it
is shabbat and
I go first to a zoom dance party and
second to a zoom singing circle service there are
three hundred people there
I gasp in glory at
sight of tiny baby sitting on a couch,
elder couple at a table, candles lit,
children dancing in a three, arms linked
afterwards I make a lentil squash soup 
the one I read about,
the one that sustained Seattle nurse
Reid Branson
for 17 years     
he'd cook a big batch
every other saturday,
pack for lunch
at the HIV clinic
the soup became his body 
his caring fingertips
his spine
after I hung up on the zoom call
I made the soup
ate it alone at 10pm
it was delicious
punchy, and spicy
++
on a walk today
I, dejected,
thought of all the things I wished I had done before
the world shut down
before covid ended short my
one-year master's program 
I imagined myself,
dressed in a long, light coat for spring
walking atop bricks with my backpack heavy,
pouring through library collections,
visiting museums,
running into classmates after lectures
& then going out for a beer
the things I wished I had done
++
 the lentil soup is a thing I have done
a thing I have made,
and I let it feed me
after diasporic disorienting
zoom shabbat
and I wasn't so sad,
because in all the things I wished I had done,
I had really done so many
in staying home
and eating the
soup
About Martha Schnee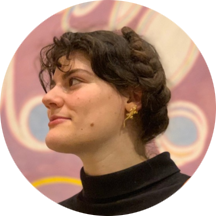 Martha is a photographer, writer, facilitator, and mover. Her work crosses disciplines and centers around looking closely, taking time, studying places, and always experimenting. She has worked in public housing communities, art therapy, museum education, and at a variety of interdisciplinary arts organizations. She is a current Master's Student in Arts Education at the Harvard Graduate School of Education.